The Martinez winery was founded in 1866 by Carlo Martinez in Marsala, the western most tip of Sicily, the territory which the DOC wine is named after. The winery was named after the Martinez family and that, through a combination of innovation and tradition, has made its products unique for six generations. Over the years, the Martinez winery has remained true to its original product: Marsala, the most prestigious Italian liqueur wine.
The company's history is inextricably linked to that of the family, through a succession of faces and characters that have given life to a unique and excellent tradition. The founder Carlo Martinez, with his brother Francesco, found that the lively town of Marsala, which was at the time the heart of the island's commerce and wine production, was the ideal place for his business venture. The Martinez winery grows every day with its own wines and matures with its own wines without haste.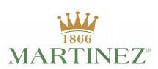 ---

---


Grape varieties
Grillo, Catarratto, Inzolia
The essential ingredients are: carefully selected grapes that the company's technicians choose from small local winemakers, the experience that only a long production tradition can give and genuine passion for our product that is poured into every bottle.
It is an intimate relationship between the product and the producer, who, with care and patience, awaits the best from his product. In fact, only 10% of the reserves of the Martinez winery is marketed after having been painstakingly aged in oak barrels.