Marisa Cuomo Furore Rosso Costa d'Amalfi DOC 2019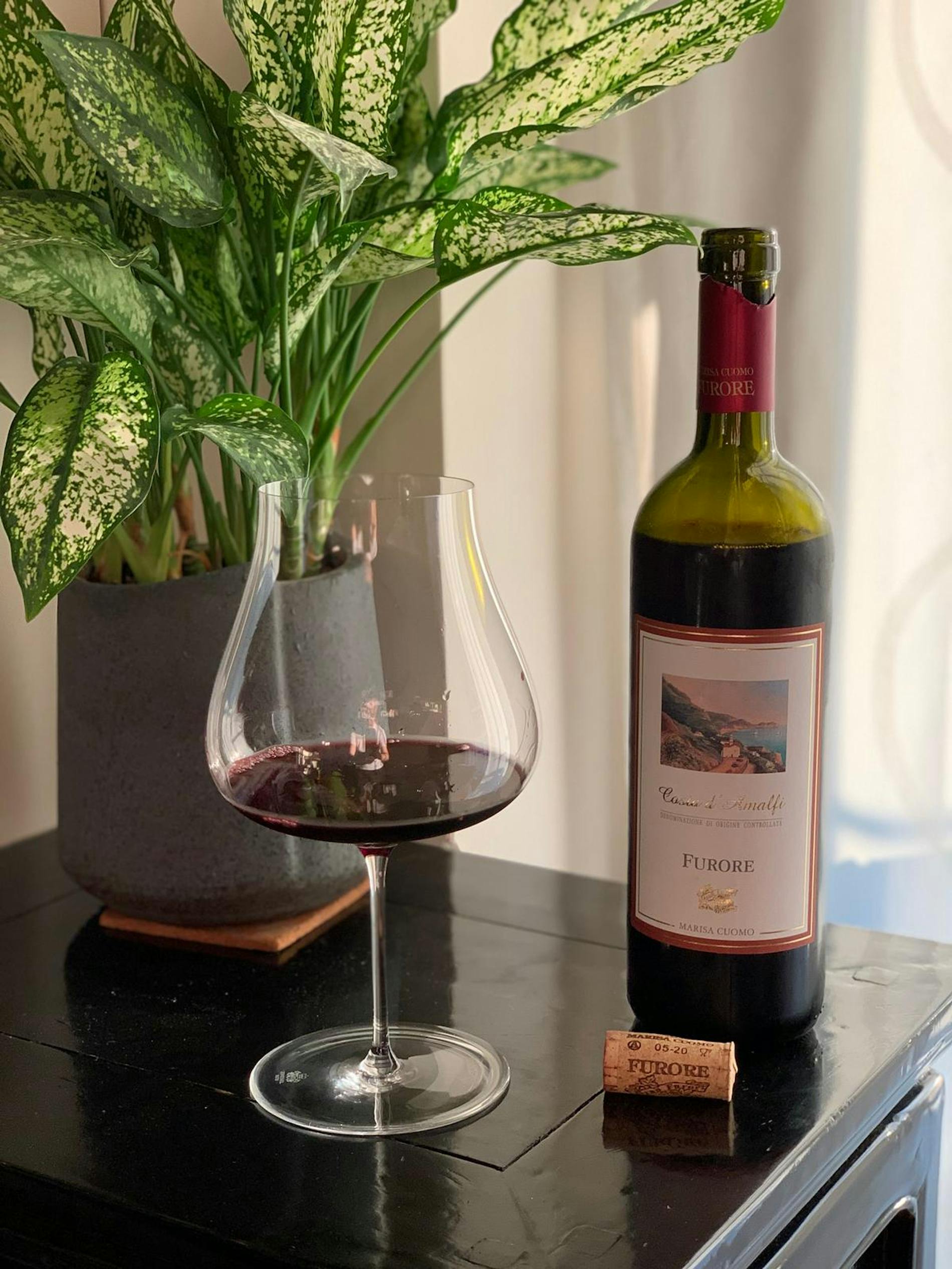 Costa d'Amalfi is a DOC of the Campania wine region in southern Italy. This picturesque coastal area is an UNESCO World Heritage site. The landscape is spectacular with narrow terraced vineyards on steep slope and rocky cliffs overlooking the sea. The difficulty in farming those vineyards has earned this area the fame of heroic viticulture. Furore is one of the most celebrated sub-zone of Costa d'Amalfi DOC. Cantine Marisa Cuomo has been producing wines from this area since 1980 and the focus on quality has made it standing out among its peers.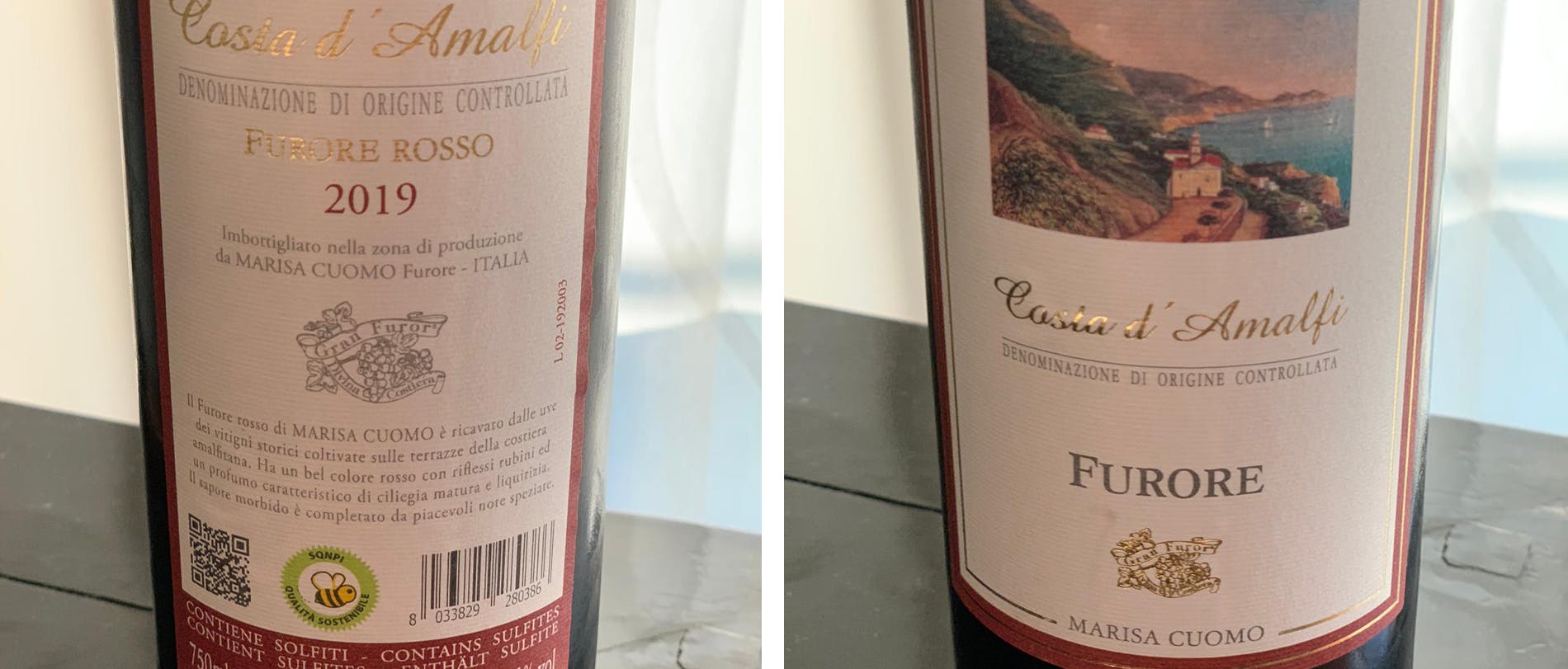 A blend of 50% Piedirosso and 50% Aglianico, this wine shows more on the fresh and juicy red fruit characters of Piedirosso at the beginning while the darker and powerful Aglianico influence only starts to emerge at a later stage. My tasting notes below reflect such change: "Deep ruby with a hint of purple rim. When the bottle is just uncorked, the wine has violet-like floral nose along with red cherry, Kirsch, a hint of bubble gum and herbal tea. The palate is smooth with medium plus body and concentration. Tannin and alcohol level is moderate. The finish is sappy and mineral. With time, the wine keeps involving in the glass and delivers more darker fruit, smoky and spicy sensations typical of Agliancio. The body and concentration of the wine are enhanced as well giving a creamier and rounder palate. The finish keeps lingering on your palate with black cherry and plummy fruits supported by fresh acidity and steely minerality."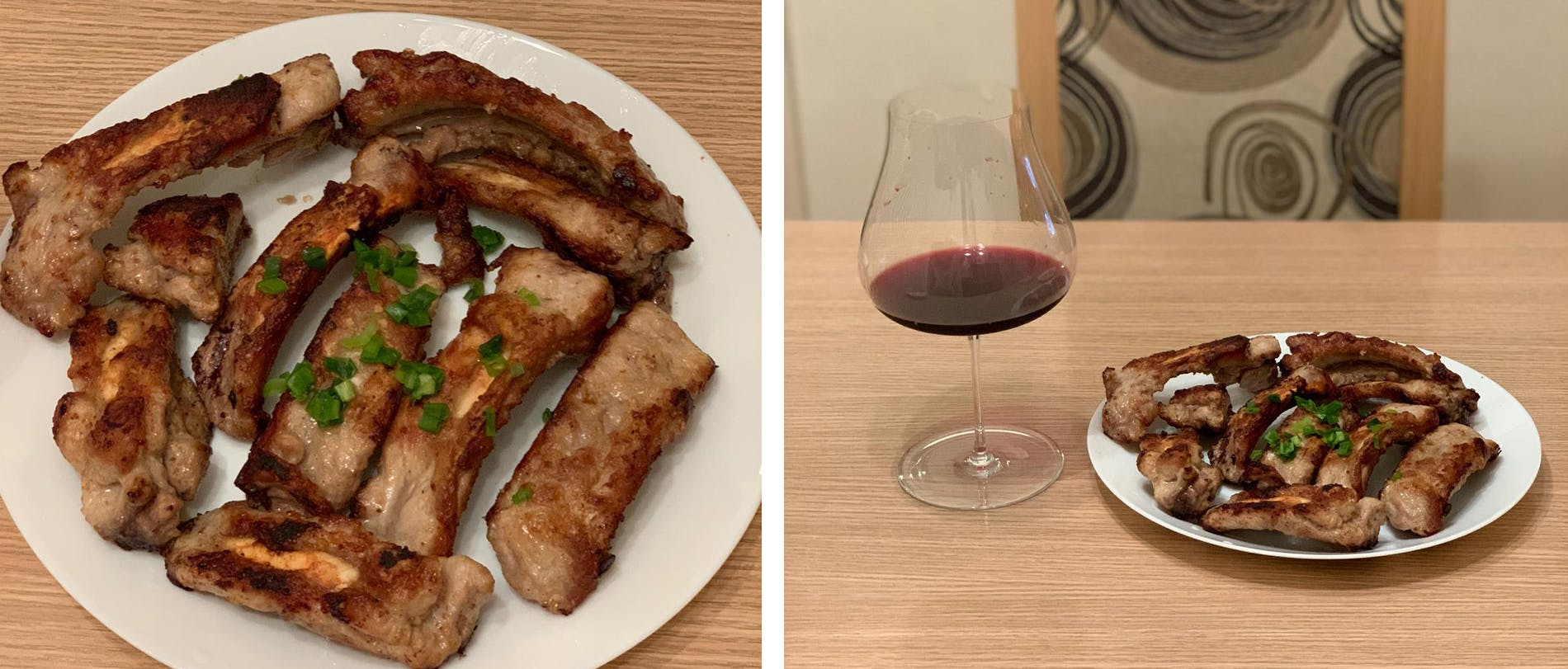 It is a wine ideally to pair with roasted or grilled meats (such as Iberico pork chop or lamb rack) seasoned with herbs and spices. My home-cooking this time is pan-fried pork ribs seasoned with black pepper, salt, and dried herbs. The creamy body of the wine matches perfectly with the rich flavours of the dish while the wine's high acidity cleans your palate and make it ready for the next bite. The smoky and spicy notes in wines offer a great synergy with the seasonings of the dish. Don't miss the opportunity to experience this "double-faced" wine!